Carburetor Holley 1904 - 152 cid rebuilt - Scout 80, Scout 800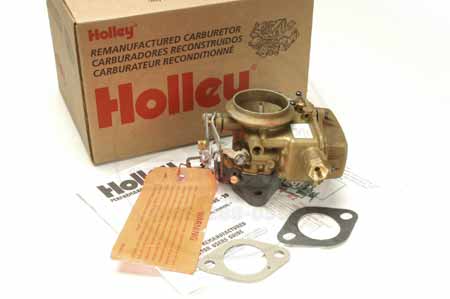 Catalog Number:
SP10357
IH Number:
890774R91 sp 10083 rebuild kit, 172955R91, 890774R91, 324471C91, 297501C92, 317334C91, 337184C91, 33
Years:
1961 - 1971
Vehicles:
Scout 80
Scout 800
Description:
Scout 80-800 rebuilt carburetors for the 4 cylinder motor are now available! Replacing a worn carburetor can aid fuel economy, cold start conditions, and add power to any 80/800. - Holley 1904 1BBL

Also used in the 50's IH Trucks with the 282/269 Black Diamond, and the 220/240 Silver Diamond engines.

Make sure you don't have sediment in your fuel tank(s) before installation. If you get this carb and do not like it, you can return it within 30 days. If it comes into contact with fuel, it becomes NOT RETURNABLE.
If for any reason, this carb smells like fuel, it is NOT Returnable. IF YOU DECIDE TO USE THIS CARB, FLUSH OUT THE ENTIRE FUEL SYSTEM.
PUT IN A NEW FUEL FILTER AND CLEAN OUT THE FUEL PUMP BOWL. THE SMALLEST AMOUNT OF DEBRIS IN THE FUEL LINES CAN DISABLE YOUR CARB. NO CARB THAT HAS COME INTO CONTACT WITH FUEL IS RETURNABLE.