D-44 Pinion Nut and Washer Kit - Scout II, Scout 80, Scout 800, Travelall, Travelette, Pickup, Metro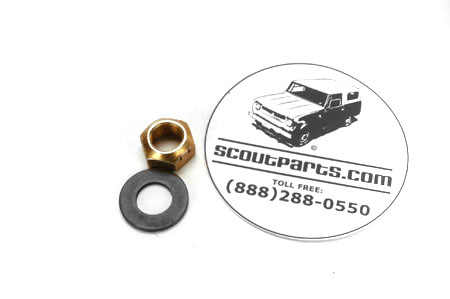 Catalog Number:
SP13651
IH Number:
127971R1, 103346
Years:
1940 - 1980
Vehicles:
Scout II
Scout 80
Scout 800
Travelall
Travelette
Pickup
Metro
Description:
If you ever have to change the pinion seal or yoke, or are regearing, chances are that the pinion nut is fused with rust. Replace it with a new one that will install in seconds. This special lock nut (also called a companion flange nut) comes with the extra-thickness washer used to attach the drive yoke to the pinion gear. This fits all Dana-44 axles used on Scout 800s & Scout IIs, and pickups and Travelalls made between 1940 and 1980, including K, KB, L, R, S, A, B, C, and D-series. This may also fit M-series Metros.

This will also fit all Dana-44 axles used by Jeep, Ford, Chevy, Dodge, Willys, Checker, and many others.

See SP13651 for a kit with both the carrier and pinion shims, the pinion nut and washer, and cover gasket.