Flex Coupler Rebuild Kit (pot jointCV joint) - Scout II, Scout 80, Scout 800, Travelall, Travelette, Pickup, Metro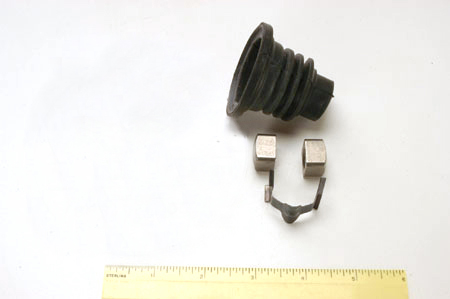 Catalog Number:
SP13535
Years:
1952 - 1975
Vehicles:
Scout II
Scout 80
Scout 800
Travelall
Travelette
Pickup
Metro
Description:
Help regain the handling your truck had when it was new by installing a rebuild kit for your steering coupler. Also known as a pot joint or CV joint, the flex coupler gets worn out over time, or the seal tears, allowing lubricant out and water in. This kit will not only make your IH more fun to drive, but much safer as well. Order yours today!

Kit comes with a new bellows, bearings, spring, and boot retainer ring (not shown). Trimming of the seal may be required in rare instances. Even if it is not an International vehicle, if you have a joint like this, then this kit should fit.

This fits A, B, C, D, S, R, L, and M-series; Scout 80/800/II; and many others IH trucks.