Flywheel Ring Gear for V8 & L4 Engines, NEW - Scout II, Scout 80, Scout 800, Travelall, Travelette, Pickup, Metro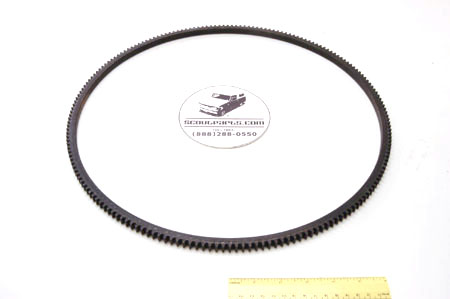 Catalog Number:
SP13591
IH Number:
151116R1
Years:
1955 - 1985
Vehicles:
Scout II
Scout 80
Scout 800
Travelall
Travelette
Pickup
Metro
Description:
Bet you didn't know you can replace that worn out ring gear on your flywheel! If your starter 'sings' to you every time you go to start your truck, you need to replace the ring gear. This is a much cheaper alternative to replacing the flywheel.

This is used on all flywheels used on the IH engines, which includes 152, 196, 266, 304, 345, and 392 motors.

This is not specifically designed for use with flexplates used with automatic transmissions, but if your flexplate is bad, you could cut the old gear off and weld this new one on and be back on the road!