IH V8 Heat Riser Valve, NEW (heat regulator) - Scout II, Scout 800, Travelall, Travelette, Pickup, Metro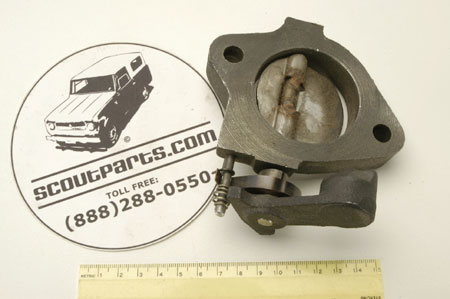 Catalog Number:
SP13783
IH Number:
1700538C91, 324888C93
Years:
1955 - 1985
Vehicles:
Scout II
Scout 800
Travelall
Travelette
Pickup
Metro
Description:
We now have brand new heat riser valves as used on 266, 304, 345, and 392 V8 engines in Scout II, Scout 80, Scout 800, Travelall, pickups, busses, and many other R, S, A, B, C, and D-series trucks. Also known as a heat stove valve or butterfly valve, this is a thermostatic valve that directs exhaust through the intake manifold to heat the engine faster on cold mornings. Usually by now the old one is frozen open, frozen shut, the butterfly has broken off, it rattles excessively, or some moron took it out long ago as an "improvement".

This valve is quite important: if it is frozen open or is missing, your engine will take too long to warm up, resulting in poor fuel mileage, carburetor icing, and fuel puddling. If it is frozen closed, you will experience overheating, an over-lean fuel mixture, and possible engine fire! If it is just rattling or opening and closing repeatedly, that's annoying and causes poor performance. Get this new valve and enjoy great engine performance again!

Do not forget to purchase SP11814 and SP13541. You will need one of each for a proper installation.

This does not fit the SD-33 diesel engine, nor the 232 and 258 AMC engines.