POR-15 Floorpan & Trunk Restoration Kit - Scout II, Scout 80, Scout 800, Travelall, Travelette, Pickup, Scout II Diesel, Metro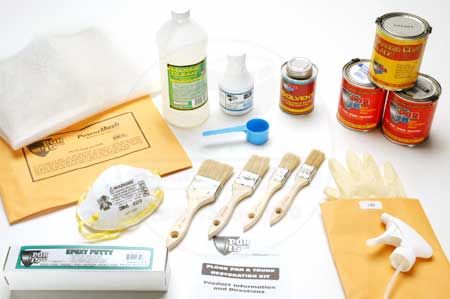 Catalog Number:
SP18532
Vehicles:
Scout II
Scout 80
Scout 800
Travelall
Travelette
Pickup
Scout II Diesel
Metro
Description:
You'll save hundreds of dollars over replacement... and your restoration will be better than replacement because you'll never see rust again, whether it's a daily driver or a show car. You can maintain the integrity of the structure with no ugly welded seams. Our easy step-by-step instructions make it simple to restore floor pans, trunk pans, pickup truck beds, etc. You'll be amazed how complete it is... Everything you need is at your fingertips. Order your kit today!

KIT CONTAINS:

MARINE-CLEANâ"¢ Metal cleaner
METAL-READYâ"¢ Metal Prep
Power Mesh Fabric
POR-15® Silver
POR-15® Black
EPOXY PUTTY
CHASSISCOAT BLACKâ"¢
POR-15 SOLVENT®
All brushes needed (4)
Safety face mask
Latex gloves
Dispensing scoop
Detailed instructions
Please read our TERMS AND CONDITIONS of ordering.

Scout, Traveler, Terra and Travelall are trademarks of the International Truck & Engine Corporation. Their use has been licensed under Scout/Light Line Distributors, Inc.
Scoutparts.com is a Scout/Light Line Authorized Dealer.