Scout 800 A Dash Wiring Harness 69-70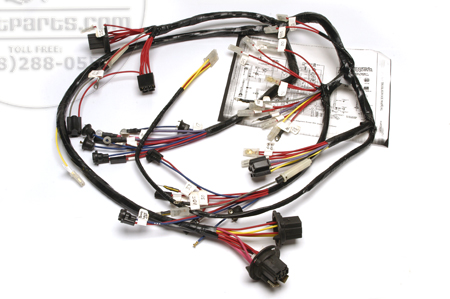 Catalog Number:
SP16990
IH Number:
348621C91
Years:
1969 - 1970
Vehicles:
Scout 800
Description:
This is a new wiring harness to fit Scout 800 dashboard gauges and switches from 1969-1970. Scout 800A. This harness will work if you have a 4 cylinder or a V-8. (The ignition switch shown in the photo is not included.)
We are currently out of one of the fire wall connectors. You will have to use your old connector.

On all wiring harness orders, we need to know your vehicle serial number, transmission, and engine. Call us if you need any help identifying any of these, or order SP13536 to be sure!
This is NOT a box of wires that you struggle to make fit. This is an exact reproduction of the original complete harness that the IH factory made. You will have to reuse your fire wall connector. We include a tool to remove and reinstall the wires.

Built to suit. No refunds once ordered.
You will have to reuse your plastic connector at the fire wall. If you like, you can send us yours and we will install the plastic connector on your harness.



Fits: 1969 Scout 800, 1970 Scout 800