Scout II Engine Wiring Harness - Gas Engines.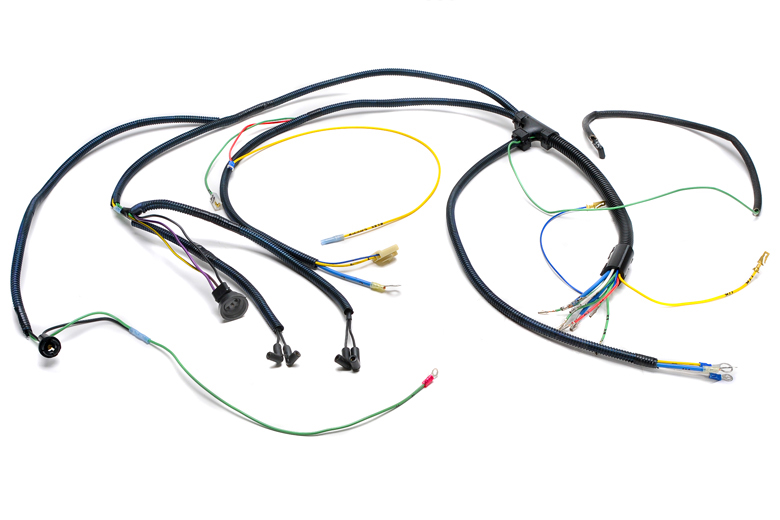 Catalog Number:
SP12531
IH Number:
402553c93, 451321c91, 447374c91, 452867c91, 450829c91, 452868c91, 462783c93, 484340c91, (424064C92
Years:
1971 - 1980
Vehicles:
Scout II
Scout II Diesel
Description:
This is a new replacement wiring harness for the engine compartment of Scout II vehicles.

New wires will make your Scout II start and run reliably once more. Made from original IH specifications. Simplified and labeled harness. Specific for Scout II 4, and 8 cylinders. It has a few extra wires and extra length to fit all gas engines.

Harness uses the same pin connectors as your original firewall plug. We are out of stock on the black plastic 10 contact gang connector. You will have to reuse your old one or insert the pins individually. (Its not a big deal.)
If you have a 6 cyclinder engine please call and let us know you will need harness number 424064C92.

If you have a Holley gold box ignition system, see SP 18323 for the associated ignition harness.

Comes complete with electrical diagram. Custom wiring harness. Made to order, Not returnable.

Circuits Included: charging, starting, distributor, water temp, oil pressure, back up lights, neutral safety, electric choke and 4wd engage.



Fits: 1971 Scout II, 1972 Scout II, 1973 Scout II, 1974 Scout II, 1975 Scout II, 1976 Scout II, 1976 Scout II Diesel, 1977 Scout II, 1977 Scout II Diesel, 1978 Scout II, 1978 Scout II Diesel, 1979 Scout II, 1979 Scout II Diesel, 1980 Scout II, 1980 Scout II Diesel
Video: