1980 International Traveler 4X4 Diesel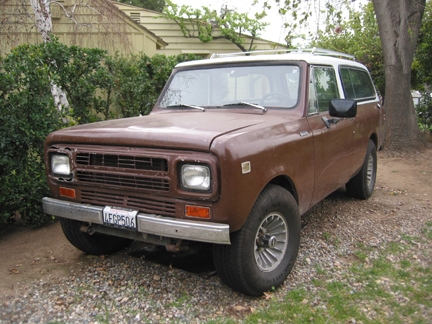 Catalog Number:
SP17334
Year:
1980
Vehicles:
Scout II Diesel
Description:
Basics: Strong 6 Cylinder SD33 Nissan Diesel Engine with a 4sp manual transmission. Cruses at 70 MPG and it Does great mileage: 20 to 28 MPG depending how you drive.

Special features: Removable fiberglass top, Metal fuel lines, auxilary fuel pump & Racorp fuel filter make it ideal for running on Bio-diesel. Great potential for using straight vegetable oil directly in the field tank in warm weather or installing SVO system. Body in good shape.

Newly Installed: Alternator; Tires;gauges: temperature, Oil Pressure,Voltage; carpet;Rear door springs; Battery, starter recently rebuilt. Have all receipts for warranties.

Issues:
Mechanically: Oil leaks, engine smokes at start up (but every diesel does)and there is a leak in the exhaust manifold.

Comfort: Driver side window mechanism is broken so the window does not rolled down, heater controls need repair, Air conditioning is not connected. Windshield washer fluid container needs to be repair but the wipers wk.

Electrical: Radio, Fuel gauge, and reverse lights do not wk. Dash lights intermittent

Please call Oscar at 408-666-7699 7pm-11pm for any questions or for appointment to test drive it. have title on hand, cash sale or U.S. Bank cashier check.

A mechanic checked it and it turns out it's the engine with the turbo which is not working. That is where the small oil leak is coming from. It does not affect the vehicle but it would drive much faster if you replace or rebuild it. We dropped the price to reflect the cost it will take to do this. Any questions write or call. Thank you for looking!