Crankshaft Flange Repair Sleeve - Scout II, Scout 80, Scout 800, Travelall, Travelette, Pickup, Scout II Diesel, Metro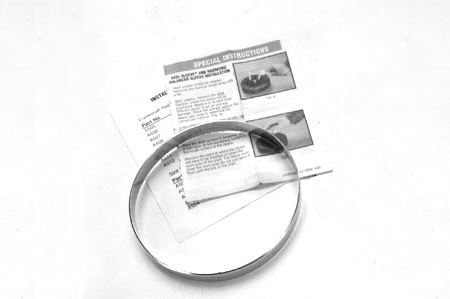 Catalog Number:
SP13597
Years:
1955 - 1985
Vehicles:
Scout II
Scout 80
Scout 800
Travelall
Travelette
Pickup
Scout II Diesel
Metro
Description:
This is a repair sleeve for the flange or hub on the rear of the crankshaft on all International 4 and 8-cylinder engines. Usually the outer journal of the rear hub gets a groove worn into it from the wear of the rear oil seal. Eventually, this groove becomes too deep for the seal to do its job. This sleeve provides a new super-hard smooth surface for the oil seal to ride on. This will kill that terminal oil leak you have at the back of the engine. A good rule of thumb is if you can scratch your fingernail across the hub and it catches, then you need to put a sleeve on it.

Easy to install, this comes with instructions. You will also need to change the rear oil seal (SP12718). You need to clean out the flywheel bolt holes with ChemTool or an equivalent, and use Lok-Tite to seal the flywheel bolts to prevent oil seepage through the threads.

We can get these for all other IH engines (RD, BLD, GRD, BD, SD, BG, LV, MV, et cetera). Simply provide us with the application or dimensions, and we will be happy to help you out.