D-44 Differential Shim Kit - Scout II, Scout 800, Travelall, Travelette, Pickup, Metro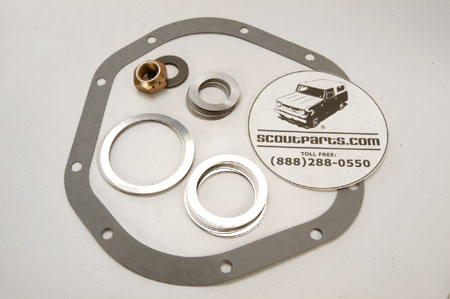 Catalog Number:
SP13650
IH Number:
372967C91
Years:
1940 - 2005
Vehicles:
Scout II
Scout 800
Travelall
Travelette
Pickup
Metro
Description:
This is a shim kit for the Dana-44 axle used in Scout 800s (rear only), Scout IIs (front & rear), and Travelalls & pickups (K, KB, L, R, S, A, B, C, and D-series, front and rear). This may also fit Metro (M-series). You will need this kit if you decide to change your gears for any reason. The shims are necessary to ensure proper gear wear and preload. Improper installation can result in gear damage and failure.

Each kit comes with carrier shims, pinion shims, a new pinion nut and washer, and a fiberglass-reinforced differential cover gasket.

This will also fit all Dana-44 axles used by Jeep, Ford, Chevy, Dodge, Willys, Checker, and many others.