Engine Assembly Lubricant - Scout II, Scout 80, Scout 800, Travelall, Travelette, Pickup, Scout II Diesel, Metro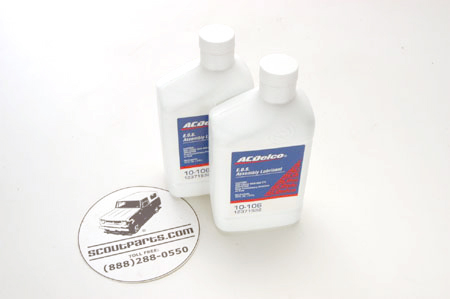 Catalog Number:
SP13560
Years:
1905 - 2005
Vehicles:
Scout II
Scout 80
Scout 800
Travelall
Travelette
Pickup
Scout II Diesel
Metro
Description:
This is the best engine break-in lubricant available. EOS Engine Assembly Lubricant is the choice of the best engine rebuilders, and should be yours too! This is the same additive we provide with all of our cam kits to help aid in proper break-in. This product helps reduce piston scuffing, flat cam lobes, wiped bearings, and other problems associated with engine run-in.

When you are doing a partial or a full engine rebuild, this should be used to coat engine bearings, lifters, journals, cam lobes, pistons and rings, engine bores, and any other wear area. This should also be poured into your oil pump during installation.

One bottle should be adequate for assembly, and another for the crankcase before you start it up for the first time.