Polyurethane Spring Bushings, 6 per axle, sold in set of 6.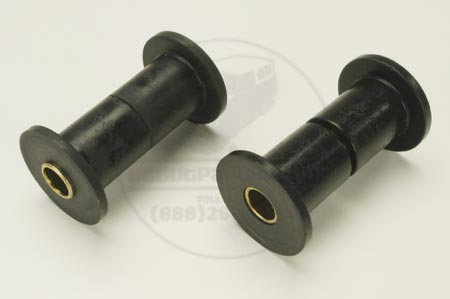 Catalog Number:
SP13793
IH Number:
167897R1, 166743R1
Years:
1940 - 1975
Vehicles:
Travelall
Travelette
Pickup
Metro
Description:
If you have been wanting poly bushings for the springs in your pickup or Travel-all, just like the Chevy and Ford guys, we've got ya covered! These are urethane bushings to replace the standard rubber Harris bushings used on some of the trucks like the 1200, 120, 1210, and others. These fit springs that are 2 1/2" wide and that have a 1" eye diameter. If you have split bushings now, then these will fit. That includes the D, C, B, W, S, R, L-series, Metros, and even the K and KB trucks. Not only do they give modern handling, but they are easy to install. There are 6 bushings per axle kit, and you will need 2 kits per truck.

If you want the original rubber bushings, then see SP13794 for those.