Transmission Overhaul Rebuild Kit (3 Speed) - Scout II, Scout 80, Scout 800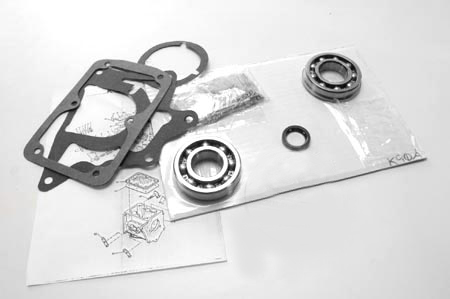 Catalog Number:
SP13416
IH Number:
352592C92, 380936C93, 425518C91, 437933C91, 893920R91, 865275R1
Years:
1961 - 1980
Vehicles:
Scout II
Scout 80
Scout 800
Description:
This rebuild kit replaces all the seals and bearings and roller bearing pins in your 3 speed T-13 (code 13013 on your linesetting ticket) and T-14 (code 13014) transmission as used in Scout 80 & 800, Scout II With 4 Cylinder, Travelall, pickups, and also Jeeps.

These transmissions were also known to the rest of the world as the T-90AA and T-90AB, either of which will be found on the outside of the transmission case and/or the shifter tower cover.

Very often the main cluster gear shaft needs to be replaced. For that, see SP13493. If your cluster gear is bad, we also have those too, under SP10091.

Synchronizer rings are not always required during a rebuild, so those are sold separately. Call for pricing.

Be aware that the main bearings are held in place by retaining rings that are practically impossible to get out without the proper tool. See SP13796 to order that. Trust us, you will need it.