WIring Harness, 1950-1952 Model L-110 And L-120 Dash, Engine And Headlight Harness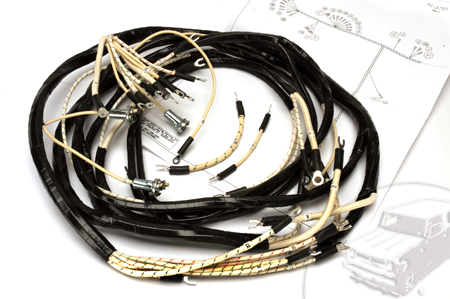 Catalog Number:
SP17270
Years:
1950 - 1952
Vehicles:
Travelall
Pickup
Description:
These harnesses feature original wire construction. If your harness has woven insulation, the reproduction will be of that original woven insulation. Each wire is individually color coded and identified. Each connector is crimped, soldered and rubber insulated. Custom harnesses are modified to your specific needs. Each harness includes schematics.

Need a harness that we don't have listed? Were always looking for good sample harnesses to reproduce.

All connectors included. Made in the USA.




DISCONNECT BATTERY before doing any work. PLEASE READ BEFORE YOU ORDER: At least 40 years have passed since your machine was built. Many people have worked on, and changed things from factory configuration. It is customer's responsibility to make sure that harness and contact arrangement is correct for the application. Because the previous old harnesses may have damaged components in your electrical system, Pacific Supply Group accepts no liability for any device that you attach this new harness to.
Video: